When interviewing for a critical role in an L&D team, such as a corporate trainer or learning manager, you might be asked to present examples of your work of designing and leading training sessions for others. These typical competency-based questions might be used to inspire your answers if you have a planned appointment for such a position in an L&D team.
To prepare for your upcoming job interview, we've included a list of general competency-based questions for L&D managers and training specialists, inquiries about your professional history and experience, detailed questions, and interview questions, including sample responses.
General competency-based questions for a training specialist interview
Following are some typical competency-based questions you can encounter in a job interview for a training specialist:
Describe yourself to me.
Where did you find out about the position?
What is your knowledge of this business?
Which are your most notable advantages?
Which of your shortcomings stand out?
In four years, where will you desire to be?
What salary goals do you have?
So how would you work with others in a team?
What would your previous employer say about you?
What drives you to carry out your work duties?
Competency-based questions regarding experience and background
The following competency-based questions on your history and professional experience may be asked of you by a prospective employer for a trainer:
How well-suited for this profession is your knowledge?
What steps do you take when developing a training program?
How could you use the expertise from your previous positions in this role?
How have you found using e-learning tools and software?
What elements of a training exercise present the most significant difficulty for you?
What aspects of training courses do you consider most satisfying?
What do you consider to be a training professional's top skills?
Do you perform well under time constraints?
How can your experience help you be successful as a trainer?
Do you possess any expertise in this field of staff training?
How often have you developed your training abilities since starting your career?
Detailed competency-based questions
These detailed training specialist competency-based questions can help in the in-depth preparation of your interview:
Describe an instance when you created a training program. How did it go? What did you take away from the encounter?
Do you think it's a good idea to outsource staff development? What are the ideal courses or programs?
How can the needs of employees be determined for a training program?
What methods would you employ to encourage a new employee?
Describe a situation when you struggled to communicate with a colleague or during the training event. How did you handle the predicament?
Tell us about an instance when you altered a training schedule. What was the outcome?
How would you gauge the effectiveness of a training course?
Describe an occasion when you got constructive criticism for your work. How did you respond to the circumstance?
What are the key distinctions between coaching, mentorship, and training?
What elements would you incorporate in a training program intended for both supervisors and subordinates?
Competency-based questions for a training specialist with examples of responses
If you're applying for a position as a trainer, you can refer to the following sample competency-based questions and responses to assist you in preparing your own replies:
How would you instruct a new hire?
Training new hires on a firm's procedures and assisting them with the onboarding needs are two responsibilities of a trainer. Your prior training expertise can be used to aid you with this response. Employers may learn more about your organizing abilities by responding to this inquiry.
Example: "When I teach new hires on our procedures as a group leader at a cafe, I've discovered that among the most excellent methods to ensure they get the proper learning is having successful and seasoned staff share their tips for operating in the chaotic food establishment."
The above answer has two significant effects: first, trainees get thorough advice regarding how to complete their daily chores from an individual who is excellent at the job; second, trainees get a chance to observe our team environment and pose questions as they work."
Describe an instance when you encountered a challenge while undergoing training. What did you take away from the encounter?
Employers like to understand how you handle interpersonal and workplace issues when they ask this interview question. Emphasize any people skills you've acquired or developed due to your encounters.
"A particular situation made it difficult for me to devote as many hours as I would have preferred to providing training, which is my favorite aspect of functioning in HR. To overcome this dilemma, I created a thorough training handbook for new hires and incorporated resources for what questions to ask if they had doubts. The guide helped workers understand their supervisors' experiences."
How would you persuade staff members to enroll in an optional training program?
Getting occupied workers to take part in development programs, especially if they are optional, is a difficulty for trainers. You can describe an instance of how you overcame a similar problem in the past or discuss potential employee-attractive incentives in your response to this inquiry.
For instance, "In my current role as a classroom trainer for a marketing agency, I frequently need to incentivize learning for staff who are busy with other activities. I've considered offering small rewards, such as gift certificates during training courses, and engagingly conducting training to help make the learning algorithm more interesting for staff members. When I began providing incentives, participation multiplied by 20%."
Describe the steps you take to conduct a skills gap analysis.
Training specialists might conduct a skills gap analysis when creating new training programs or modifying current ones. This type of competency-based question might assist you in demonstrating to a prospective employer that you have the hard skills required to carry out the duties of a trainer.
"In my current role as an instructional consultant, I frequently undergo skill gap analyses for businesses before developing their training programs. I speak with managers to assemble a list of competencies they consider their staff members are missing. I arrange questionnaires and use learning software outcomes to come up with the idea of their existing skill sets. I use this information to create training programs to help workers develop the competencies their supervisors desire to see."
Ad: PlayAblo's Enterprise-Grade Micro-Learning platform is built for millennial learners. Micro-Learning and assessments and gamification features ensure learning outcome measurement and sustained engagement.
Find out more and request a custom demo!
What should you do if you forget the training content for a significant lecture?
To conduct effective training programs, learning and development specialists frequently need to be able to adapt to new situations. Suppose you haven't encountered this particular circumstance at work. In that case, you might discuss another instance in which you made an error while participating in a training program and how you corrected it.
"Once, I was scheduled to present on diversification to a firm's C-suite management when the internet went out for the entire floor in the building, preventing me from using the explainer video I had compiled. Rather, I used my note cards to make the very same points to managers without visual references, and we had a great conversation on how to enhance diversity in a company."
Why are you the ideal applicant for the role of training specialist?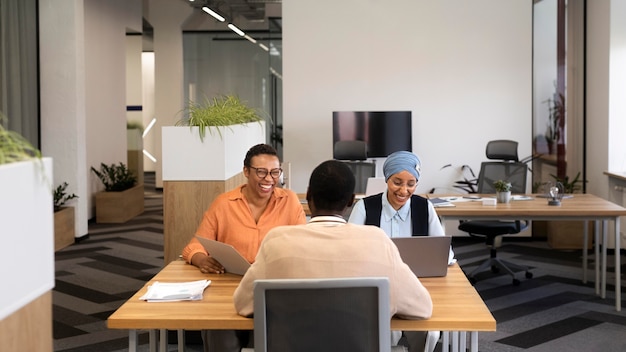 You can discuss your excitement for the training expert role and how your professional talents fit the organization's demands in response to this interview question. Mention any instances in which you surpassed or met the requirements outlined by the employer in the job description.
"In my current position, I take great pride in the academic papers I produce for workers and regularly take employee comments for improvements. This input has pushed me to give my staff richer, more thorough training materials, which is why I'd prefer to work in learning and development."
How would you evaluate the learning effectiveness of the program?
You may determine how much knowledge employees learned from a training program by looking at their responses to questionnaires or quizzes. Key performance indicators can also be monitored to assess how well a training program worked. For instance, if you provided sales personnel with training on sales calls, you could examine sales metrics to see if representatives made more revenue over cold calls due to the activity. Whatever metric you use, assessing a program's effectiveness before and after it runs is critical to gauge how practical the training was.
For instance, "In my previous position as a learning manager, I regularly trained four new hires per month as the business expanded. My HR team checked many variables as we updated the new recruits' training program and improved it. I discovered that a mix of staff turnover rates and performance reviews were strong predictors of the efficacy of the training program. Due to our attempts, the development team reduced employee turnover."
What techniques do you employ when delivering a training program?
Another essential complex skill for trainers is teaching. You can discuss the teaching methods you've employed and which assisted staff in learning in development or training seminars in response to this category of competency-based questions.
"In my current role, I frequently deliver professional development workshops to instructors. I utilize numerous techniques to make sure seminar participants are involved. To ensure they retain details from the lecture, I use a PowerPoint presentation they can interpret while I'm talking. I strive to integrate humor into the lessons. I also attempt to encourage positive energy by speaking convincingly. Since I started in this position, I've been promoted and have received a continuous flow of positive feedback."
How do you bring up choices for employees' professional development?
Developing and maintaining talent within a firm can be another HR obligation for training specialists, which means you might speak with employees about how they can advance their careers. To respond to such competency-based questions, you can discuss the methods you would apply to motivate staff members to succeed.
"Work experience is among my aspirations as a trainer. In my current role, I review reports from performance evaluations, stay aware of staff members who rank high during each appraisal cycle and ask them to meet with me to discuss their strengths, weaknesses, and career aspirations. By employing this concept, I've proposed 20 staffers to apply for the organization's business training sessions, which has permitted us to recruit professional supervisors from within."
Describe a training initiative that didn't meet the demands of the staff. What did you take away from the experience?
Hiring managers could inquire about your career-related lessons learned during job interviews. You can discuss how you dealt with the scenario and how you'd deal with the same situation in the future if a previous training program wasn't as effective as you expected it to be or an employee didn't respond well to a one-on-one training technique you utilized.
"When I was functioning on a preceding HR training group, we announced new customer relationship management (CRM) software for staff members with built-in training components. I considered the elements adequate for coaching our salespeople to utilize the application, but the learning was too broad for our specific purpose. Once we realized the technology's built-in instruction wasn't functioning for our sales department, we gathered with the selling team to learn more about the issue."
Conclusion
Preparing the right competency-based questions is essential to respond adequately to queries during a competency interview. The excellent news is that doing so is not difficult at all. First and foremost, you must study and comprehend the job description. Next, identify the essential abilities that the company seeks from the job role or person specification, and then consider instances when and how you have proven each of them. Consider including a diverse range of experiences from your coursework, prior career, or other work experience.
Ad: PlayAblo's Enterprise-Grade Micro-Learning platform is built for millennial learners. Micro-Learning and assessments and gamification features ensure learning outcome measurement and sustained engagement.
Find out more and request a custom demo!