A substantial jump in online sales has highlighted one significant aspect — gaps in effectively keeping your hybrid salesforce motivated.
As companies come out from COVID-19 constraints, many businesses are grappling with the issue of what their future working conditions will appear like. Many employees wish to work remotely for a part of the time, but opinions are yet to reach a consensus.
A stunning 83 percent of 9,000 workers polled stated they favored a hybrid strategy in recent research from Accenture. At least momentarily, employers will see a hybrid workplace culture emerge – a mix of on-site, online, and work-from-home.
Corporate systems and processes were often not created for this adaptable, blended work environment, even though organizations have been versatile and adapted spectacularly during the last months. Consequently, sales managers must find new ways to motivate their hybrid salesforce teams.
Focusing on quality over the location
As the researchers of a recent Microsoft study on hybrid work notes, the skills landscape has radically transformed. Satya Nadella, Microsoft's CEO, refers to the blended work dilemma as employees' conflicting needs for more flexibility in remote work alternatives and more significant in-person interaction.
One rising trend is that employees and companies are putting a greater focus on capability rather than location. Many firms, including Microsoft, are looking into what types of motivators might help employees reach their full potential while improving their health and productivity in every setting.
Approaching this new normal in managing hybrid salesforce teams will require a great deal of adaptability and tenacity on the side of both the management and the personnel.
When nurtured and cultivated within a community, grit may be a critical component of success. Not only is perseverance a significant determinant of performance, but it's also something you can cultivate in your team. Grit can spread like a virus.
According to recent research, outperformers are in the lead regarding insights, agility, talent, and technology
Next-generation revenue growth's four most crucial factors are insight, agility, talent, and technology. But compared to five years ago, greatness in each of these areas looks very different. According to a McKinsey global survey of 2,500 B2B organizations across industries, those who are prepared to transform their sales processes and adopt next-generation technologies are seeing double-digit revenue growth.
Top performers in each dimension master the fundamentals before moving swiftly to levers that produce exponential growth. Predictive data analytics are what are used for insights. Speed in customers ' loyalty and cross-functional collaboration are examples of agility. It's a capability and mindset transformation as a whole that results in constant innovation—and above-average growth.
Outperforming B2Bs focus exclusively on a few key factors to create a significant competitive edge.
In insight, leaders benefit from data-driven decision-making by seeing a 2 to 5 percent increase in sales. A 5–10% improvement in sales is driven by cross-functional collaboration and teamwork in agility. Talent development is shaped by behavioral science and analytics, increasing productivity by 10% to 20%. The correct digital enablers and processes also lay the groundwork for continued innovation and growth in the technology sector.
These 11 strategies will give an excellent framework for running and motivating your hybrid salesforce in these unpredictable times.
11 Smart Strategies to Keep Your Hybrid Salesforce Motivated
An agile approach to training your hybrid salesforce
Rapid advancements have changed the conventional B2B and B2C sales landscapes in web innovations, such as 5G, the omnipresent smartphone, 3D, and video technology. Meanwhile, more businesses are adopting a mixed environment, further isolating salespeople from their cohorts, colleagues, and supervisors.
These advances have changed how businesses train and motivate their hybrid salesforce teams. The selling cycle has been dramatically compressed in today's fast-paced networking climate. This emphasizes the need for salespeople — particularly the hybrid salesforce teams — to be capable of responding to any sales circumstance thrown their way.
Ad: PlayAblo's Enterprise-Grade Micro-Learning platform is built for millennial learners. Micro-Learning, along with assessments and gamification features, ensures learning outcome measurement and sustained engagement.
Find out more and request a custom demo!
Engaging hybrid salesforce teams with unique sales training based on the self-motivated, participant, and in-the-flow learning sets the path for a more productive and effective work environment.
So, why is it vital to invest in an agile hybrid salesforce training program to ensure that blended sales teams are prepared to take on the brave new online world of digital selling?
Instant satisfaction in two words. Buyers nowadays, whether B2B or B2C, want order fulfillment in real-time. Customers will move their investment elsewhere unless sales staff are ready to give whatever they want promptly.
Implementing an agile learning method is required to break down such obstacles, which include time, place, distance, location, counseling, coaching, work support tools, and social media. Only a customized sales learning model can meet the urgent necessity of rapidly getting hybrid salesforce teams ready.
Contributions to company success
When it concerns handling a hybrid salesforce, one of the main issues that executives have is avoiding injustice. How can the management make sure that their staff are recognised and have opportunities and resources?
Give your sales employees the ability to make a difference in your organization's growth. Literally. Give them writing rights if you own a corporate blog. With the right communications software, you may include review and approval stages as well. This relieves the HR and Marketing teams of some stress. You won't be fully accountable for watering the content tree — if you give other workers control and the tools they need to tell tales and maintain the company up to date. It also implies that your organization has a more varied spectrum of voices willing to speak up.
Consider how often you use social networking to tell stories – you are really the storyteller. Your staff will have a viewpoint that is recognized within the work context if you incorporate blogs and social features. People can remark in a style that is familiar to them, which opens up vital discussions. People can express questions in a more natural way, boosting socialization between employees and executives.
Make a big deal out of it! Refocus on rewarding employees, because supervisors can use tactical praise and recognition to inspire the proper behaviors and improve motivation in their employees on a daily basis. Taking a moment now to express gratitude will provide the fuel your employees require for today and far beyond.
A personalized learning model
While internet sales have been there for at least a decade, the hybrid salesforce is a newer phenomena. As a consequence, numerous sales-oriented companies lack a sales training course that takes into account this paradigm shift. Because of the always changing hurdles of mixed working and blended selling, pre-packaged, off-the-shelf courses are unable to meet those ever-changing needs.
Customizing your hybrid salesforce training will allow you to better connect it with your company's needs. Because we live in a personalized environment, it's only reasonable for your hybrid salesforce to want individualized training and development. While standard (off-the-shelf) training can help with some parts of personalization, only customized sales training can generate tailored content that is targeted to the real-world demands of clients in your sector and company.
Ready-made learning courses approach sales training as a one-size-fits-all manner. In the actual world, though, each sales staff, and each individual inside each crew, has its own set of skills, flaws, and learning requirements. A customized training program can help you stay focused on productivity and skill gaps relevant to your staff and address particular areas inside your firm.
Your retail setting is unique to your company, just as each person's Genetics is distinctive to them. Exclusive peer-learning possibilities, aggregate organizational sales expertise, and customized learning aids appropriate to your sales framework are all part of a custom-built hybrid salesforce training approach. It makes use of these techniques to provide highly interactive learning that improves on-the-job education in your specific setting.
Sales onboarding and a continuous learning journey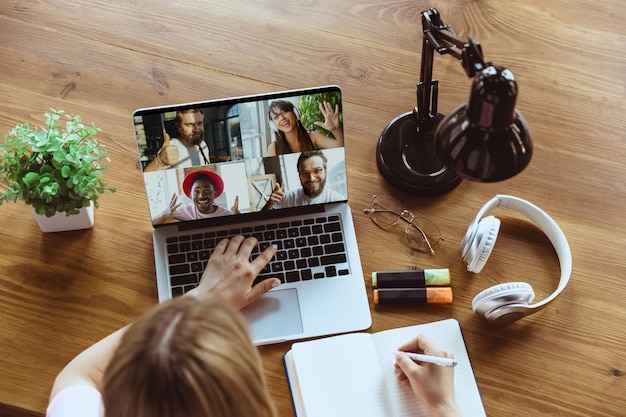 A strong onboarding process is at the core of a thriving sales team. Bespoke sales training can help new hires learn your company's culture and become proficient in your own methodology and best practices.
Create learning journeys for your hybrid salesforce team is the next step. The obligations of duties sales teammates change over time as they stay to operate within your company. This path is specific to each company, and pre-packaged training can't cover everything. Ensure that your sales team has access to a set of customized learning materials as they advance through their development.
Performance-focused training and immersive learning
Availability and adaptability in training are essential for improving sales preparedness and driving skills. This part of a training plan is dependent on a sales and marketing training program that includes topics like:
When you're working, you can learn while you're doing it.
Aids to the job/performance support tools (PSTs)
Reinforcement of training.
Also, reap the benefits of immersive learning. Hybrid salesforce teams are generally geographically distributed and work remotely. Mobile learning, eLearning, and microlearning which one can access at any time and from any location, are excellent ways to increase a hybrid salesforce team's engagement, motivation, and performance.
Ad: PlayAblo's Enterprise-Grade Micro-Learning platform is built for millennial learners. Micro-Learning, along with assessments and gamification features, ensures learning outcome measurement and sustained engagement.
Find out more and request a custom demo!
Ongoing communication and self-paced learning
Hybrid salesforce teams may feel cut off from their coworkers and support networks in the workplace. An excellent customized sales training approach includes continual outreach, collaborative learning, and guided practice areas, which are great for training and educating virtual sales staff.
Also, provide a flexible and adaptable (self-paced/blended) strategy: Since not every employee learns similarly, why force the entire hybrid salesforce to use a one-size-fits-all solution? To give tailored learning and mentorship, a custom-made platform can combine self-paced eLearning with guided virtual educator-led training.
You can accomplish this goal by combining eLearning with live seminars, interactive exams, hands-on labs, practice sessions, continuing mentoring, and on-the-job coaching during actual sales calls. Supervisors and trainers at an advanced rank can employ role-playing or scenario-based training to illustrate the usefulness of sales approaches and practices tailored to a firm's particular setting and beliefs.
Social learning
Self-directed training can be facilitated via virtual social groups and online cohorts, which are made possible by a determined social learning approach. These components of a hybrid salesforce training program give mixed employees unfettered exposure to informal educational experiences when they need them. It's tough to handle these factors with ready-made, off-the-shelf training programs because they're unique to each firm. Each part must be adapted to fit unique business objectives, which can only be done with a custom-made training program.
Modelling behavior and vision
Show up on time, ready, and focused for meetings. Do your homework. Active listening should be practiced. Show your competitive drive and desire to complete tasks, either in a physical or virtual setting.
Also, develop and articulate a vision. Ascertain that everyone understands the team's goals and success criteria. Align this with their personal objectives. People will go above and above if they trust in the goal and can see how their activities directly contribute to it. This should be communicated frequently via many ways. Emphasize on the "Why?" question.
Clear, high expectations
Setting high and clear expectations fosters an environment in which people exceed their own expectations. Make ambitious goals for the team which are attainable. Also, make absolutely sure that there are motivational strategies in place to promote these goals.
Establishing expectations becomes even more critical when the manager is unable to monitor performance and progress on a daily basis. However, it is vital to comprehend the expected results as well as the behaviors required to achieve them. Performance must be consistently monitored versus expectations once goals have been created and conveyed. Potential issues must be addressed, and victories must be recognized and appreciated.
A competitive workplace environment
Scoreboards, sales competitions, and publicity recognizing achievements are just a few of the tools we ought to possess to help us evaluate and monitor progress. Consider how these can bring the hybrid salesforce team together to fit the basics of the term "competition," which means "to struggle together." We can also have common goals and transparency around progress and results even if the staff isn't in the very same location. Offering fair compensation and recognizing accomplishments can have a significant impact on employee motivation and engagement.
A culture of empathy
Wherever your employees are, meet them there. Even a beneficial change, such as a raise, can be unpleasant. When you factor in the pandemic's numerous unexpected twists, you've got a hybrid salesforce that's dealing with a whole fresh set of psychological issues. So be adaptable and proactive in your listening. In fact, different places in the world and specific parts of our economy will all cope with what mixed work is uniquely. There'll be no standard when it comes to hybrid work. Flexibility is the key.
Conclusion

Most sales-oriented firms have had to rethink how their in-house sales training program fits the novel work characteristics of the hybrid workforce as a result of the outbreak. Establishing a sustained sales strategy – one that's available in the work flow, enables on-demand development, and adapts itself towards continuous learning cycles that reflect current business environments – is the ideal way to enable a hybrid sales force. Off-the-shelf, one-size-fits-all training does not match these criteria.
Businesses may strengthen their hybrid salesforce teams by giving them all the educational materials they need to complement professional training with a personalized sales training strategy. This speeds up staff effectiveness and equips hybrid salesforce teams with the knowledge they really ought to posses to make quick decisions, cutting the sales cycle in half.
Ad: PlayAblo's Enterprise-Grade Micro-Learning platform is built for millennial learners. Micro-Learning, along with assessments and gamification features, ensures learning outcome measurement and sustained engagement.
Find out more and request a custom demo!